Join the Ranks!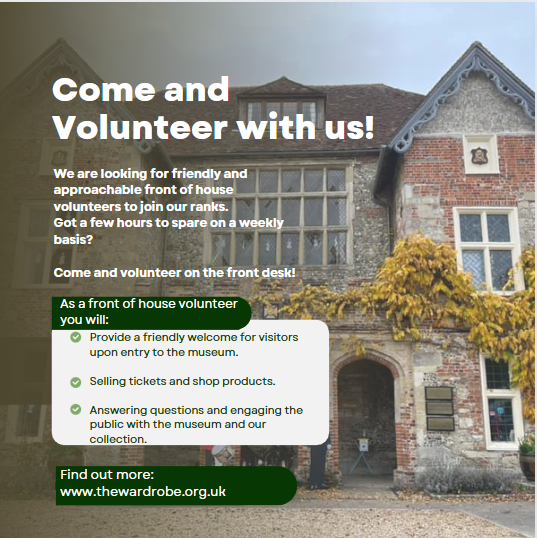 Our volunteers are the lifeblood of the museum. From welcoming visitors into the museum to cataloguing the collection, we have loads of opportunities for people to play a part in promoting and preserving our regimental heritage. If you have a few hours to spare every week, then we have a range of tasks to keep you occupied.
Email: museum@thewardrobe.org.uk, or call us on 07375 103894
A Volunteer's Point of View
"Having volunteered at the Rifles Berkshire & Wiltshire Museum, in the centre of Britain's largest and most beautiful Cathedral Close, for the best part of three years, I have by now welcomed thousands of people into what is undoubtedly one of the finest small regimental museums in the land. In doing so, I have been fortunate enough to meet some of the most interesting people whom I have ever had the pleasure of encountering, both in the form of visitors from across the world and, of course, in the form of the museum's own dedicated band of staff and volunteers.
More important, wherever they are from, and whatever their backgrounds, few visitors leave the museum unimpressed and without having had their perceptions of Salisbury - coloured as they maybe by recent events - enhanced by their experience. I would therefore not hesitate in recommending the Rifles Berkshire & Wiltshire Museum to anyone who wishes to devote a few hours, wherever and whenever possible, to such a worthwhile and rewarding endeavour."
Current Availability:
Although we are always on the lookout for new volunteers to join the ranks across the museum's operations, we are currently particularly interested in recruiting new front of house volunteers!
We are looking for friendly and approachable volunteers to expand our front of house team.
Front of house volunteers are the first point of contact for people coming into the museum and will be on hand to offer a friendly welcome and ensure the highest level of visitor satisfaction. Volunteering on the front desk is the perfect opportunity to get out of the house, learn new skills and build confidence.
Tasks will include:
• Welcoming visitors to the museum.
• Handling cash, including selling tickets and shop products.
• Answering questions from visitors about the museum, our regimental history and the collection.
What are we looking for?
No previous experience is required, as all the necessary training will be provided once you have started. All we ask is that you have a positive attitude and a willingness to help our visitors engage with the museum and our regimental history.
We are looking for volunteers who can commit to regular slots of at least half a day. Ideally, we are currently looking for people to fill the following openings:
Monday afternoon: (13:30 – 17:00)

Tuesday afternoon: (13:30 – 17:00)

Thursday afternoon: (13:30 – 17:00)

Saturday morning: (10:00 – 13:30)

Saturday afternoon: (13:30 – 17:00)
Other volunteer positions:
Below is a description of just a handful of other roles that we have available. However, this is by no means an exhaustive list!
Research Enquiries
A key position is our Museum Archivist and assistant who deal with the many enquiries, normally relating to individuals, that we receive every week. This is an invaluable service to families, researchers and a variety of people wishing to find out about the regiments.
Transcription
Many documents both from the National Archives at Kew and from the Museum's own archives have been transcribed. This includes the Battalion War Diaries for both The Wiltshire Regiment and The Royal Berkshire Regiment for both World Wars (now on sale from the Museum shop). Some of this work is carried out at the Museum but over the years much has been done in the comfort of volunteers' own homes.
The Collection
All items need to be accurately recorded, photographed and scanned on to our database, scanned or and if not going out on display, to be suitably packed for storage. A number of people work on different aspects of this process which is essential to ensure that we know what objects we have and where they are as well as making them available for viewing on the Museum's website. The Museum is particularly grateful for the ongoing help provided by the local NADFAS group who, among other tasks, have spent many hours photographing uniforms and medals so that they are available on this website.
Gardening
Our beautiful walled garden is a jewel in our crown here at The Wardrobe. It is open for visitors to enjoy throughout the week and we regularly host wedding receptions and other events. Maintaining the garden is therefore essential. Volunteers do not need any experience, just a willingness to learn!
Our head gardener, Alistair, is a trained horticulturalist and we have a few well-established volunteer gardeners. But extra help in the garden is always welcome! Alistair will guide and direct the tasks required, leaving volunteers to take it at their own pace, or get stuck in as the mood takes. We have some interesting new projects in mind that we would love to bring to fruition, with the help of some new volunteers.
If you would like to join the team please click on the "support us" link at the top of the page, then the green "Become a volunteer" button. We look forward to getting to know you, whether for the first time or as "a returner".
Did you know our garden featured on Countryfile?
Regular viewers of BBC's Country File may recall the episode on Sunday 31st January which covered how some doctors have taken to prescribing outdoor activities, and specifically gardening, as a means of taking exercise and as a tonic for mental health.
Our lovely walled garden, which backs onto the banks of the River Avon, is a calm and tranquil environment where visitors can see and hear the bees going about their daily business, before returning to their hives at the bottom of the garden.
You can watch the episode of Countryfile here (BBC login required):
https://www.bbc.co.uk/iplayer/episode/m000ryp6/countryfile-ellies-home-turf
If you're interested in volunteering with us, either contact us using the details at the top of this page or fill in the form below: