The Wardrobe has recently started a new Patron Scheme, and should you be willing to support all the work that takes place at the Wardrobe site, not just the museum itself, then please consider donating to us as a Patron, which involves a larger sum of money each year. Details of the Patron Scheme can be found at the top of the page under a separate button "Patron." Thank you.
If you would like to be a regular supporter to our museum you can donate an annual sum of money and become a Wardrobe Patron. Some details of the scheme are given below. As a supporter you will be confident in the knowledge that your contribution will be helping us to keep the history alive and in maintaining a facility open to all.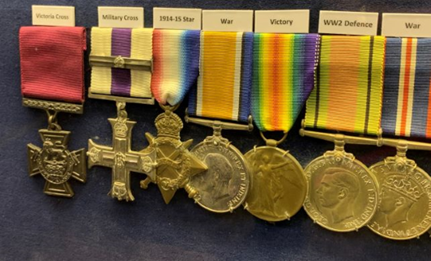 By becoming a Patron, you can enjoy a special engagement with our collection and museum team, while supporting the work of The Rifles Berkshire and Wiltshire Museum at the Wardrobe. Your support will help us enhance our exhibitions, protect the collection, and provide exciting and innovative opportunities for thousands of people every year to learn about the contribution and service members of the regiment have given us.
While many of our patrons are former serving members of the regiment and its forebears, anybody can become a patron. Most of our visitors are not linked to the regiment and for residents of Salisbury we are an important part of the vibrant life of the Cathedral Close and supporters from all backgrounds are welcome. We want to make patronage of the museum as accessible to as many former members of the regiment, their families, and supporters as possible.
To that end we have created funding circles.
Tofrek Circle – ideal for those who wish to support us but who do not live so close and perhaps cannot access all the benefits of being a patron.
Maiwand Circle – suited to the majority of patrons who will visit us and make the most of the museum.
Ferozeshah Circle – designed for corporate patrons and those who would like to help us a little more.
BENEFITS OF JOINING THE FUNDING CIRCLES
In return for your support all patrons will benefit from:
Unlimited free entrance to the museum with two guests. An invitation to the patron's annual garden party.
A copy of the annual newsletter.
A patron's pin and acknowledgement of your patronage on the museum website.
MAIWAND CIRCLE BENEFITS
In addition, Maiwand circle patrons benefit from:
Invitations to exclusive events like talks and exhibit launches (some will be free to patrons some discounted)
An additional 15% discount on room or garden hire.
One pre booked tour of the museum hosted by one of our museum team for you and two guests bringing the exhibits and museums history to life.
FEROZESHAH CIRCLE BENEFITS
In addition, Ferozeshah circle patrons benefit from:
A table at the annual garden party.
Discount for event room hire.
A guided tour of the museum for your guests when hiring a room for an event.
If corporate support, then recognition of your organisation on the museum website.